In 1969, educator Joe Boettcher interviewed Harry McWilliams who served as President of the Aztec Cemetery Association from 1949 through 1967. Boettcher then wrote the Brief History of the Aztec Cemetery based upon that interview.
The History reveals that even though settlers began arriving in the Animas River area around Aztec in the 1870's, it was not until 1890 that the Aztec Cemetery came into existence. Before that time, burials were taken care of by the pioneer families on their lands, or in small cemeteries along the Animas.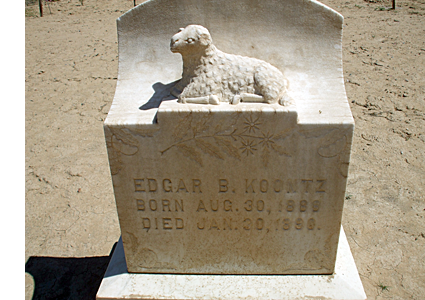 The first burial in what is now the Aztec Cemetery was the two-year-old Edgar Koontz. After several other burials at the same site, a group of men led by Bert Koontz, Burr Milleson and Thomas Shepard decided to designate 20 acres of Shepard's land as a cemetery and purchase it through the Homestead Act. However, it was not until 1926, after years of discussion and litigation that 15 acres was finally acquired. Dora Hartman, president of the association, received the first deed for a burial site.
The next year, as association president, Mrs. Bruington attempted to get 30 years of records in order and to mark each section. She gave up after she encountered constant opposition and a lack of money to make improvements. It was not until 1949 when Harry McWilliams was elected president of the cemetery association that progress was made. The first project he undertook was cleanup of the area. Next, he attempted to identify 285 unmarked graves. By 1967 only about 30 graves remained unidentified.
There are many imperfections that cannot be corrected, such as the rows of headstones that aren't in perfect rows. When one realizes that about 30 years passed when burials took place without any direction from anyone, it is a wonder there is any order at all.
The Aztec Cemetery is the final resting place for approximately 2600 individuals buried within it's boundaries. Within the past year, about 175 temporary markers were placed at unmarked or neglected gravesites.
Graves of Lawmen and Outlaws
At least ten San Juan County sheriffs are buried in the Aztec Cemetery – Abe Dunning, W. T. Dufur, J. W. McKenzie, C. E. Noble, Bill Noland, George L. Blancett, John Graves, Myron Noland, and Charles Lane.
In section 8 is the grave of Steve Katonka who was hanged near the Animas River Bridge in the early 1920's for the murder of Sam Groy and Bill Kelly of Gallup. Both are buried near Katonka.
Nearby is the grave of Jack Anderson who robbed several businesses in Farmington during the 1930's and hid his loot among the Anasazi ruins of the La Plata District. Anderson was apprehended by a sheriff's posse near the McDermott Arroyo and shot while trying to "draw a bead" on one of the posse members with a 12 gauge shotgun.