Purpose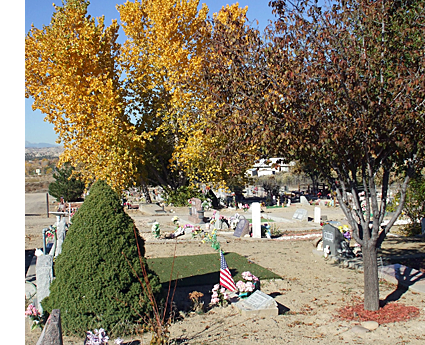 Even though the boundaries have changed over the years, the purpose of the governing board remains basically the same as when it was established in 1981 – "to operate, manage, and maintain the Aztec Cemetery. This directive is as important now, or more-so, since the cemetery is a historical asset that tells about a community's past. Likewise, the Aztec Cemetery is an invaluable resource for historical and genealogical research, but more importantly, it is a monument to the pioneers of the region as well as others who inhabited this community.

Mission
Like most rural cemeteries, the Aztec Cemetery has undergone numerous changes since it came into existence in 1890. Historical records indicate that prior to 1831 large cemeteries did not exist. Up to that time, there were only small family plots or small cemeteries connected to churches such as the 11 cemeteries that existed in San Juan County. One of those was the Aztec Cemetery that was established on 15 acres at the current site on Chamisa Street.
The Aztec Cemetery is a nonrenewable resource threatened by a number of factors – a decline in revenue, a limited amount of land, and increased maintenance costs. A one-time payment is received when a lot is purchased, but funds are insufficient for long-term care and the only options that are available include charging more, relying on a public subsidy or neglecting maintenance – none of which are attractive options. If challenges are not met, this reminder of early settlement and those who have gone before us will be lost forever. The very survival of the cemetery depends on careful planning for the future and community awareness of the problems that exist. It is important that the past and the future continue to be in the forefront of planning, so that the cemetery will be a valuable asset 100 years from now.
Board of Directors
President
Bob Dusenbery
Vice President
Jack Scott
Member
Audie Glazebrook
Member
Carol Whitlock